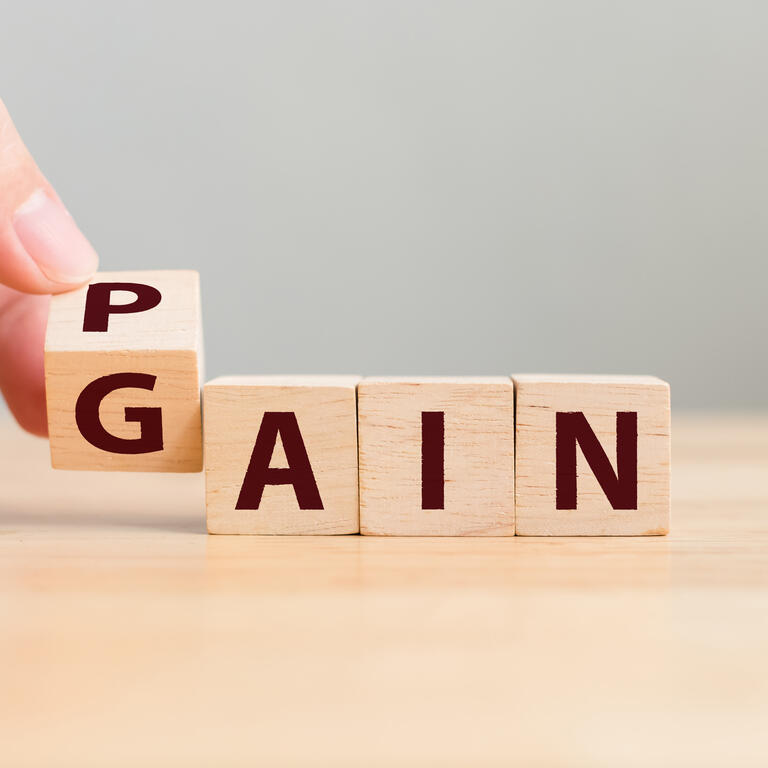 Note that this article is mostly file based Article – Commodity which became available to Macro Trading Factory ("FMP") subscribers earlier (last week). The original article has been updated to include data through January 14, 2022.
noisy water
Five weeks ago, we presented "4 Reasons to Buy Biotech Stock Before 2022."
Since then, the two biotech ETFs we mentioned – the SPDR S&P Biotech ETF (XBI) and the iShares Nasdaq Biotechnology ETF (IBB) – have lost 8.30% and 4.35%, respectively in terms of value, respectively, underperforming both sectors. [Health Care Select Sector SPDR ETF (XLV)] In addition to the market as a whole [SPDR S&P 500 Trust ETF (SPY)].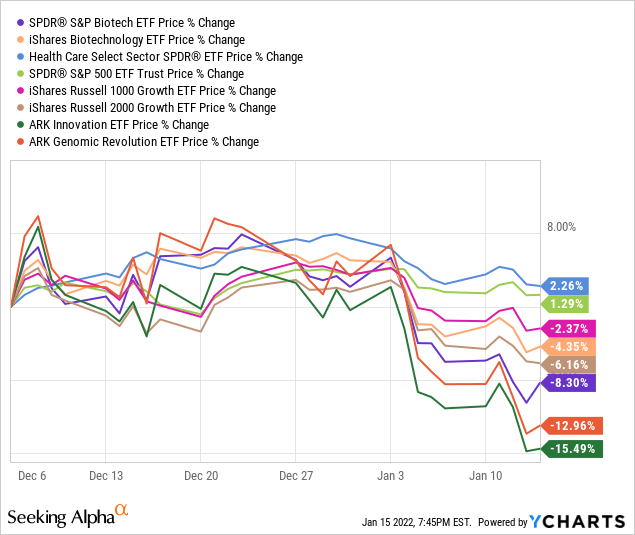 Under the current environment, biotechnology stocks are obviously trading more in line with the growth of small-cap stocks [e.g. iShares Russell 1000 Growth ETF (IWF), iShares Russell 2000 Growth ETF (IWO)] And they look more like ARK(D) holes (such as the ARK Innovation ETF (ARKK) and the ARK Genomic Revolution ETF (ARKG)) than some great opportunities.
Honestly, five weeks (since the article was published), let alone two weeks (since the New Year) is nothing in terms of jumping to any conclusion.
No serious investor "counts the money" or backs out after such a short period.
Yes, these are undoubtedly difficult times for those investing in biotechnology.
And yes, those who focus on and invest in this area mostly (just to realize: we don't!) have struggled over the past year.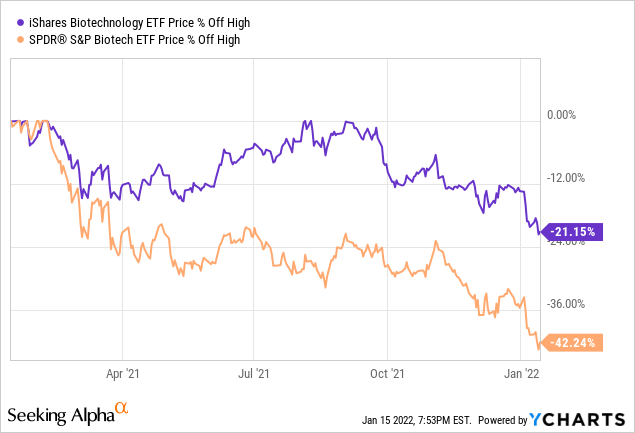 However, this is neither the first nor the second time that biotech stocks have gone through a major correction/crash process, and as in such previous events – they can, and are likely to recover.
As you may well understand, we don't have an "update" for the investment thesis that was submitted five weeks ago. Basically nothing has changed, and in an environment that hates anything that "smells" tech/growth/no income/no profit/no cash flow – biotech stocks are natural/major candidates.
Instead of promoting a thesis that requires no 'fix' after such a short period and after a relatively small decline (in biotech terms), we'd like to focus in this article on something new that we didn't touch on in the original article, simply because it wasn't valid/before Five weeks.
something is brewing
During the recent days, the trading volume of the SPDR S&P Biotech ETF (XBI) has increased.
While this can be seen on the daily trading chart…
…it's easier to see using the 30-day average daily volume which has never been higher than it is now since the start of XBI.
The days with the highest trading volumes
In the table below, you can see the top 35 dates with the largest trading volume since the start date of XBI, nearly 20 years ago (January 31, 2002).
Dates marked in yellow: December 2021 to January 2022
Brown Dates: March 2020
A few interesting points/instant notes:
The average daily movement of the top 35 dates is (1.11%) compared to just 0.06% since the start of XBI. In other words, days with high trading volume are (not surprisingly) more volatile than a typical day.
The standard deviation (daily) for the top 35 dates is 5.21% compared to 1.90% since the beginning of XBI. In other words, days with high trading volume are (not surprisingly) more volatile than a typical day.
The average daily trading volume for the top 35 history is 15,811,627 shares compared to 2,766,599 since XBI's inception. In other words, we are looking at a factor of greater than 5.7x.
7 out of the 14 trading days with the largest volumes XBI has ever seen occurred in the last 6 weeks!
If we cancel 4 of the top 14 dates that belong in March 2020, we look at the past 6 weeks and they contribute 70% of XBI's most active days ever!
There are five reasons:
We decided to make the reduction with a trading volume of at least 13 million shares.
We wanted to have at least 25 dates before December 2021.
We wanted to have at least 20 dates that are neither March 2022 nor December 2021 to January 2022.
We wanted a minimum of 20 dates for each of the periods examined (more details – below).
Because you need to start (and end) somewhere…
Possible upside
Now, for each of these first 35 dates, we have measured XBI's performance at 30, 60, 90, 180 and 360 (calendar) days after the relevant "high volume" date.
Here are the results for each of these dates: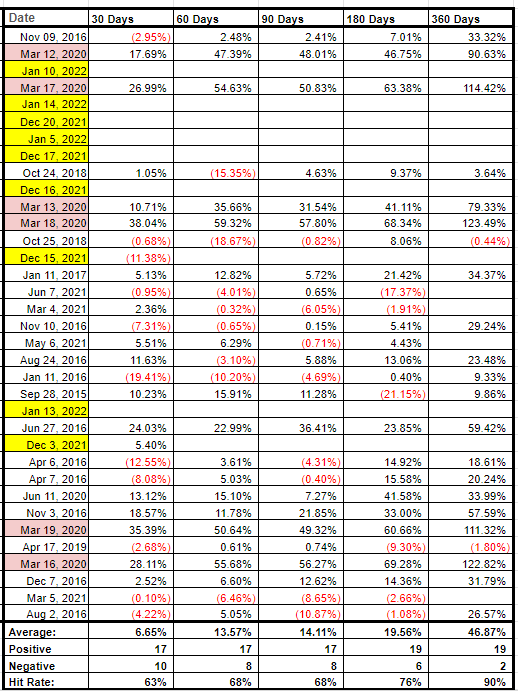 Once again, a few interesting points/immediate notes:
We have at least 20 "qualifying dates" for each category.
The average return continues to increase over time. In other words, the more time passes by following the average of the "big trading day" – the higher the return.
The same goes for the "hit rate" (= number of positive returns out of the total number of dates/observations). The further away we are from a "big trading day" – the higher the potential for a positive return.
After 360 days of the average "big day trading", there is a 90% probability with an average return of 47%.
Can we promise XBI will be up 47% 360 days from now? No, unfortunately we can't. However, Based on the trading pattern that we have seen after the past days with heavy volumes, there is good reason to be cautiously bullish on biotech stocks.
regression risk
Don't get us wrong:
In a market that is ditching "biotech babies" along with "tech/growth bathing water," there could be more pain ahead.
How much more do you want? Well, it's a biotech, so the downside risk is clearly greater (in combination with higher risk) and the range is wider (according to higher-than-normal volatility).
We believe the additional potential damage (if and when; obviously we hope not) could range from ~11% (reduced by half from the 52-week high) to 35% (!), if we test early 2019 and 2020 60 seconds low.
However, even under a very bearish scenario, we believe that building a position over time, as we have done in recent months, makes sense.
Not only because of everything we already indicated five weeks ago, but also because:
1) The days of high (and growing) trading volume indicate that we are approaching an inflection point.
If history is any indication, then the trading pattern in December 2021 – January 2022 should be seen as an encouraging sign, from a trading volume perspective.
2) The upside potential (~47%) still outweighs the downside risk (~11%-35%), which is a worthwhile long/term risk.
Not only for the next 360 days, but also for the next 720, 1080, 1440 and 1800 days, where the infection rate is 100% across the board: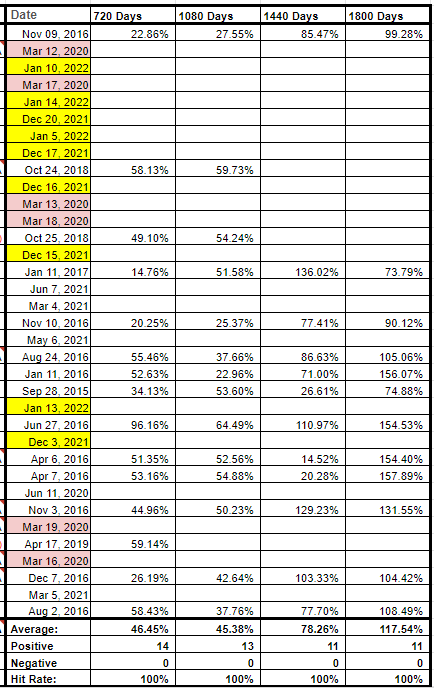 While five weeks is a very short period to achieve anything, five years is!
bridge over Troubled Water
Investing in biotech stocks with small capital is risky. very dangerous.
We are looking at dream companies that are trying to reach the Holy Grail (FDA approval) against the odds.
Some will do it, and most will not.
As such, it is critical to adopt appropriate risk management as well as established portfolio management procedures.
Risk Management: Recognizing the high risks involved in investing in biotechnology and assigning the required allocation accordingly.
The higher the risk, the smaller the allocation should be. It's that easy.
Portfolio Management: How the allocation fits (or doesn't fit…) with the portfolio as a whole. This is clearly a more complex topic and depends to a large extent on the exact structure of the portfolio.
In summary, I would say that there are ways to make more room for biotech while reducing/hedge risk using other positions/allocations.
Putting it differently, the biotechnology risk within the portfolio is mitigated by non-biotech positioning.
If the portfolio is long biotech and short other sectors/stocks highly correlated with biotech, then the situation basically turns into some kind of long term and market neutral strategy.
Going back to where we started, one can easily see that being long XBI (not to mention IBB) and ARKK short (not to mention ARKG) over the past year has generated a net positive return.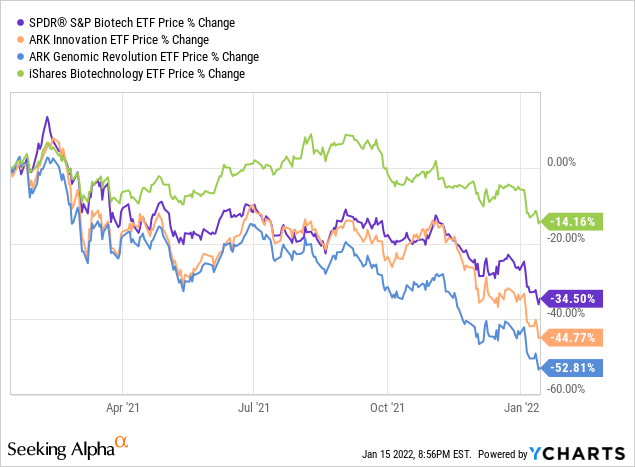 Not only has a situation like this traded in positive territory for the vast majority of the past year, but it's now in the lead it has been, even with biotech stocks plunging to their lowest levels.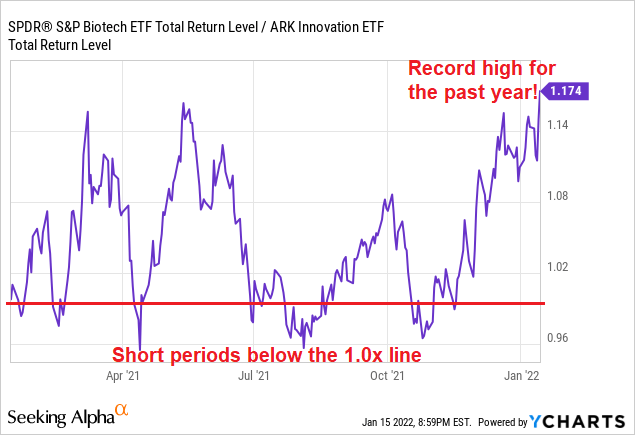 The point is not that in order to invest in biotechnology one must find a 'peer investment', rather than emphasizing that when one decides to invest in biotechnology, the allocation is not only about (absolute) risk, but also a question of overall situation ( relative).
It is possible to lose the (biotech) battle and still win the (small business growth) war!
Likewise, and more importantly, it is possible to embrace short-term pain in exchange for potential long-term gains.
minimum
We believe that for the time being, following both the general/macro (economic/market related) as well as specific/micro (biotech) aspects, as mentioned in this as well as in the previous article, there is no justification for taking a long position in Not only biotech stocks, but it can also be done in a less risky way (than usual).
How do we know this? Because that's exactly how the Total Funds Portfolio ("FMP") is structured at the moment.
On the one hand, 20.4% of our total (total) 146.2% long exposure is in biotechnology, and this allegedly makes this ~14% of our long exposure (which would be a significant and risky exposure for such a risky segment).
On the other hand, as we explained to subscribers on January 13, the last time we increased exposure to biotechnology within FMP:
The fact that we short tech/growth stocks and small caps (in a general way), allows us (from a purely risk management perspective) to overweight other types of growth stocks, like biotech, that we normally wouldn't assign such an allocation to .

In other words, we can be bolder than usual with biotech because we're dealing with tech/growth companies more than usual. On a net basis, we are still a long way from the targeted exposure for growth.
Furthermore…
Moreover, we fully understand that most of the time, there is a great correlation between biotech companies and small businesses, meaning that we are likely to see both move in tandem. Our basic assumption is that biotechnology must do better in the future.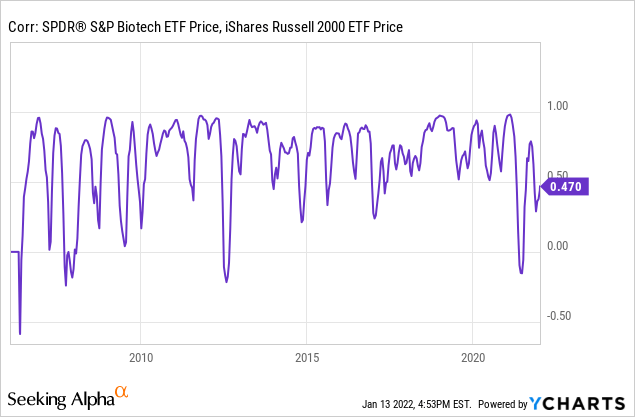 Last but not least…
On a net basis, our long exposure to biotechnology remains below 10% (which is the maximum we would allow, given current conditions)
Remember that FMP is a diversified portfolio, aiming to outperform SPY on the basis of the rate of risk, in a calm and peaceful manner (eg low trading frequency, macro views, money only, no options, etc). This wallet is available in both our service: Macro Trading Factory ("MTF") and wheel of fortune ("WoF").
Even with its significant exposure to biotechnology (which has clearly not contributed positively to its year-to-date performance), FMP is off to a great start to 2022:
| | | | |
| --- | --- | --- | --- |
| | FMP | spy | Difference (FMP-SPY) |
| full back | +4.86% | -2.16% | + 7.02% (superior) |
| standard deviation | 0.52% | 0.85% | -0.33% (lower risk) |
| specific ratio | 9.27 | Unavailable | Significantly higher alpha |
| FMP-SPY link | | | 0.402 |
And that, guys, happens when biotechnology doesn't play a role.
How is that possible? In short, we can say that there is neither a "big secret" nor a "special sauce" behind it; Just strict risk procedures/guidelines and creating a proper portfolio (and hedging) that allow everyone to be much bigger than their parts.
Happy MLK Day to those in (as well as outside) the United States who are celebrating.
I wish everyone a nice and long weekend (from an American business perspective).