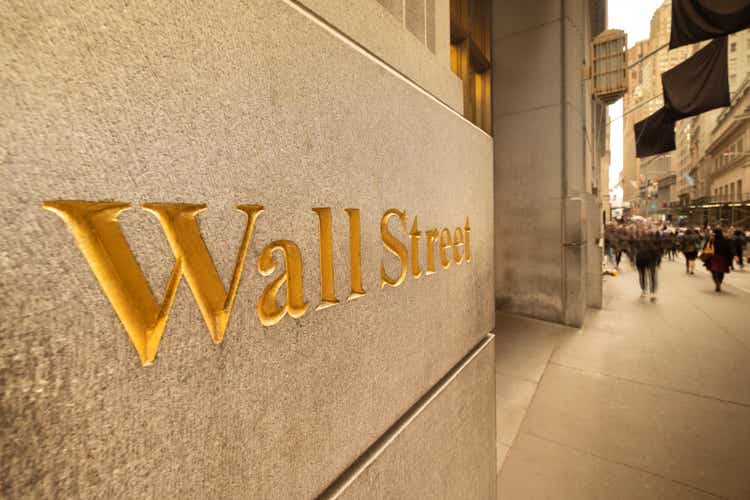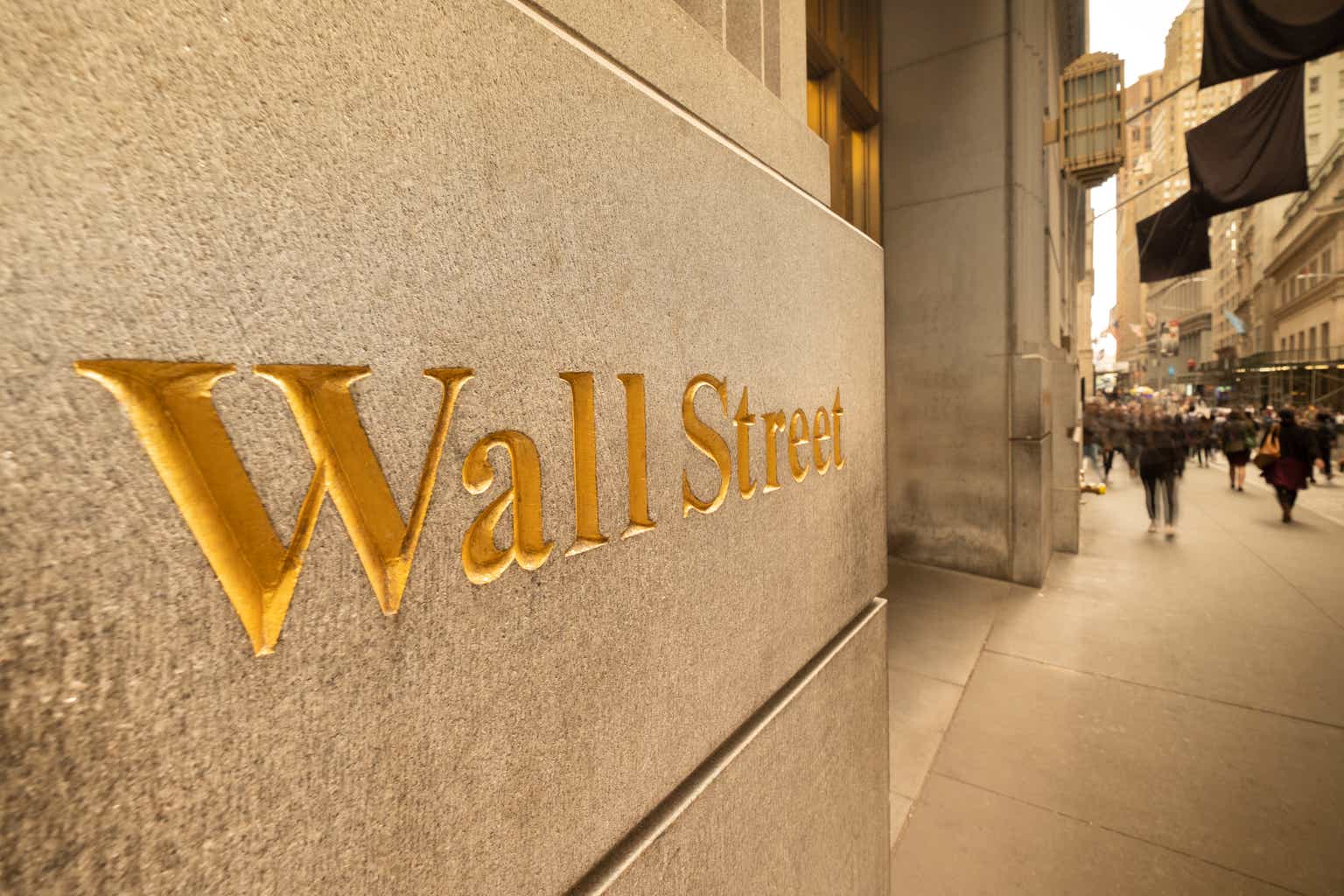 Source
Background
Cassava Sciences, Inc. (SAVA) has been very controversial since a Citizen's Petition (CP) was filed with the Food and Drug Administration (FDA) on August 23, 2021. This CP asked that 2 Phase III studies of Simufilam, an oral drug designed to treat Alzheimer's disease , be halted.
The stock collapsed from more than $123 per share (August 24, 2021) to as low as $33.50 per share (January 24, 2022). The stock is, currently, trading at about $45 to $50 per share.
The volatility has been the result of a vigorous battle between longs and shorts, as SAVA continues to enroll subjects in the 2 Phase III studies. The FDA has not yet responded to the CP, but the 180-day deadline is quickly approaching. As this deadline approaches, there has been some interesting trading activity.
5 Things We Know About Cassava Sciences and the Stock Price-per-share
#1 – We know that the stock price is, now, extremely sensitive to modest increases in volume. The below was captured using my Fidelity account, where a volume of as little as a few hundred thousand shares of buying pressure moves the stock price-per-share (PPS) up: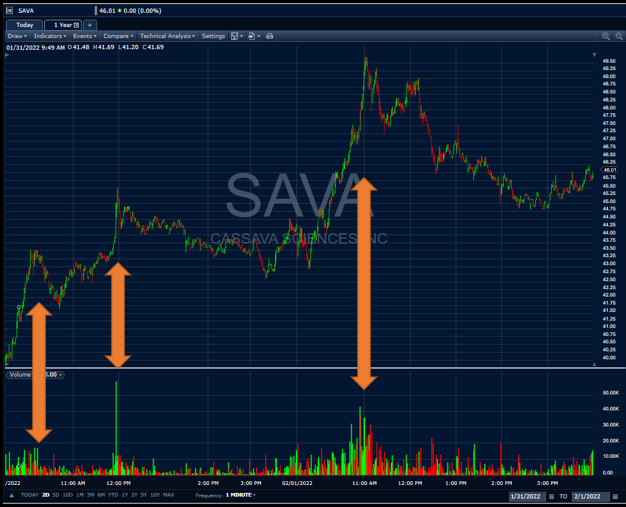 Note the intraday spikes in both PPS and volume for January 31, 2022 (see 3 orange arrows in the above graphic).
#2 – We know that retail investors are being contacted and asked to loan their shares to shorts, presumably, so that they can maintain their short positions. For example, the below was posted on Stocktwits on February 1, 2022, at 5:02 PM EST:
I got the pressure call from broker Still can't believe shorts are paying the rates and getting the brokers to call clients…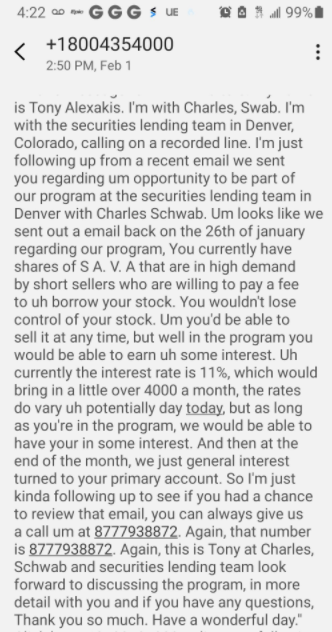 Furthermore, the below was posted on Stocktwits on February 1, 2022, at 5:11 PM EST: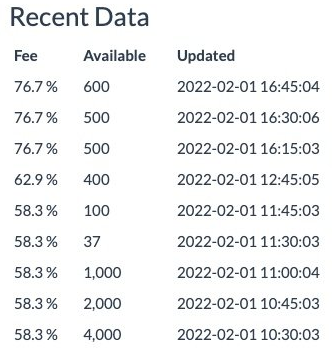 It would appear that the borrow rate for Cassava Sciences stock has risen to nearly 80% and some brokers are willing to pay 11% to retail shareholders with long positions to loan their shares to those interested in shorting the stock or maintaining their short position.
#3 – We know that the stock PPS declined as a direct result of a Food and Drug Administration Citizen's Petition asking that 2 Phase III trials of the Cassava Sciences Alzheimer's disease (AD) drug, Simufilam, be halted and that the 180-day deadline for an FDA decision or response is quickly approaching.
The original FDA CP is located here. The deadline for a decision, response, or no action to halt trials is February 19, 2022: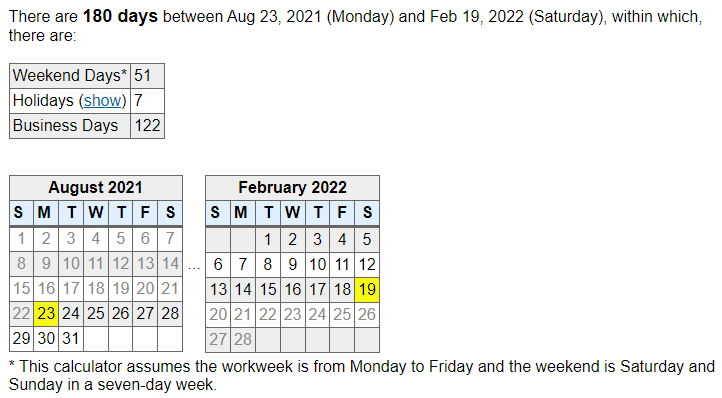 February 19, 2022 is on a Saturday; Therefore, an FDA decision, response, or no action to the CP or notification of a halt to one or both of the Phase III trials is anticipated on or before the close of business on Friday, February 18, 2022 (see above calendar and computations ). As of and including February 2, 2022, this provides for only 13 trading days before the deadline.
#4 – We know that block trades for relatively large numbers of shares are being printed and disclosed at the 4P EST close. Examples, from my Fidelity account, follow:

There have, of course, been some cases of profit-taking (see orange arrows in the above, where green measures are at the ask, red measures are at the bid, and white measures are between the bid and ask), and it is only makes sense that profit-taking will continue as the PPS increases.
These block trades began on or about January 18, 2022, where the initial efforts to go long or cover short positions was a bit fragmented with respect to 4P EST prints, as follows: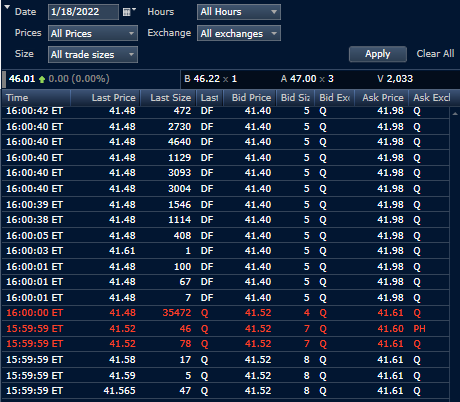 #5 – We know that high frequency or program trading is being used, unless, of course, you believe that a person sat in front of a computer and typed in a buy or sell order for 1 share of SAVA stock at $45.5331 at 15:42:47 ET ( see below orange arrows; this was developed using the "time and sales" feature on my Fidelity account – you are likely to have this feature in your brokerage account), as follows:

I have observed cases on level II where program trading represents zero percent of the trades for SAVA and other occasions where program trading represents 95% of the trades. Program trading is not illegal and it provides liquidity, but it is annoying to those trying to day-trade a stock.
You cannot win when trading against a computer with time-tested algorithms unless you "go along for the ride." Even then, it slows you down on the number of round-trips you can complete in a trading day. The computer is very, very patient – more patient than a human.
I have never seen program trading used to increase the PPS for a security. I have only seen program trading used to decrease or slow down The increase in the PPS for a security, particularly in cases when good news hits and to kill a rally or prevent a gap up in the PPS.
Summary
I have sold some covered calls and purchased them back at a lower price, so I have profited from the decline in PPS for SAVA; However, I am, generally, long the stock. While the battle between the longs and shorts has been dramatic and entertaining, it does not alter my decision to buy-and-hold the stock long term.
What fascinates me, in this case, is the willingness of shorts to pay up to 80% interest to continue to short a stock that has already been driven down from above $140 per share to less than $50 per share. It simply does not appear, to me, to be rational.
It is, of course, quite possible that some of the shorts have over-extended their short positions and will have a difficult time unwinding their short position as profitably as they may have once been able to do…perhaps as recently as a few trading days or a week ago. Presently, as suggested at the beginning of this article, the stock PPS appears to be quite sensitive to modest levels of buying (or covering) even at low volume levels.