Greetings !
MQL Market allows you to check the trading systems, 100% quotes, swaps, slippage, commissions, gaps and floating spreads that are already available to us today.
Based on this, we can judge the capabilities of the system. Nobody knows the future, not just his future, especially the future in the market.
We all use historical quotes and data to identify market weaknesses.
It's a simple principle, if it worked before, why doesn't it work today? Is it possible to predict the future?
Optimization works the same way, and we have to do millions of checks to see what results are best.
But not all systems are naturally able to perform at least one check.
Increasingly, we can see how the $500+ system has extremely long test times.
Then how can in general improve and select the best settings.
Most software in the MQL market is completely unprepared for improvement, and it will take years.
For example, Divo optimization takes about 5 hours which is millions of tests for just one currency pair.
At the same time, one test of one currency pair takes only 12 seconds. fast isn't it?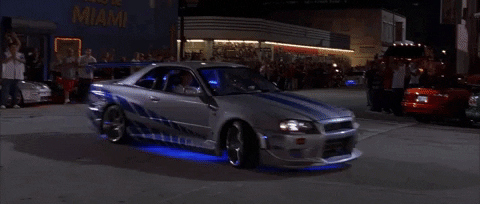 Imagine if MQL Market sells systems that pass a single 120-second test (50 hours of optimization), this is not an optimized code.
In other words, there is no refactoring or optimizing the code. Maybe the programmer doesn't even know about it?
In this case, the improvement will take 2-3 days for one currency pair. This is very time consuming and inefficient.
Most likely, the optimization of this trading system has not been implemented and will not be done.
As a rule, such trading systems have a closed box, and we do not have access to the inner world and standards.
Some don't show simple data at all, Magic, StopLoss, TakeProfit, Trailing, SpreadFilter, SlipFilter, etc. what is happening? Where is MQL headed?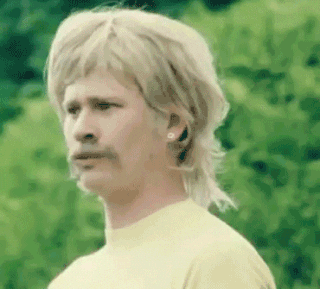 All trading systems must have these parameters, especially Grid and Martingale, so why can't you track the profitable positions of the grid or average?
default? No you did not hear. By the way, in Amaze you can activate the network mode and track the profit from the entire network as a percentage, does it not make sense? The default exists!
Amaze and Divo have a separate option that allows you to simply turn off a large amount of checks to make optimization very fast. "use quick optimization = true"
This is important when we do not need to monitor balance, spread, slippage, monitor the broker, we need pure mathematics.
So, if I test any system and see how long it takes, I am overwhelmed with ideas, how will he even improve it??
Answer: Impossible, impossible to improve. Moreover, all settings are hidden from us out of sight!
Divo can trade in both directions by default, you can also use single trade mode in one direction, all adjustable.
Thus, all improvements can be divided into two main parts, buying and selling
I always try to separate these settings, because we always want to have the best settings because all we have are previous quotes
So, I recommend using these settings for optimization, this is ICMarekts Raw Broker 100% Real Ticks, Recovery Factor Max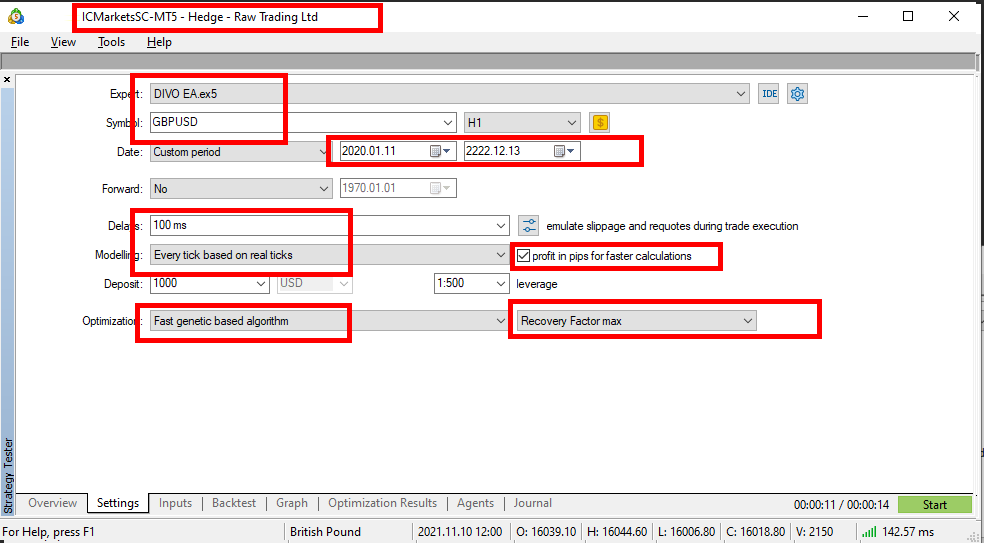 Furthermore, for purchase type deals, the following configuration, make sure to select USE FAST OPTIMIZATION = TRUE to speed up
This will greatly speed up optimization.
---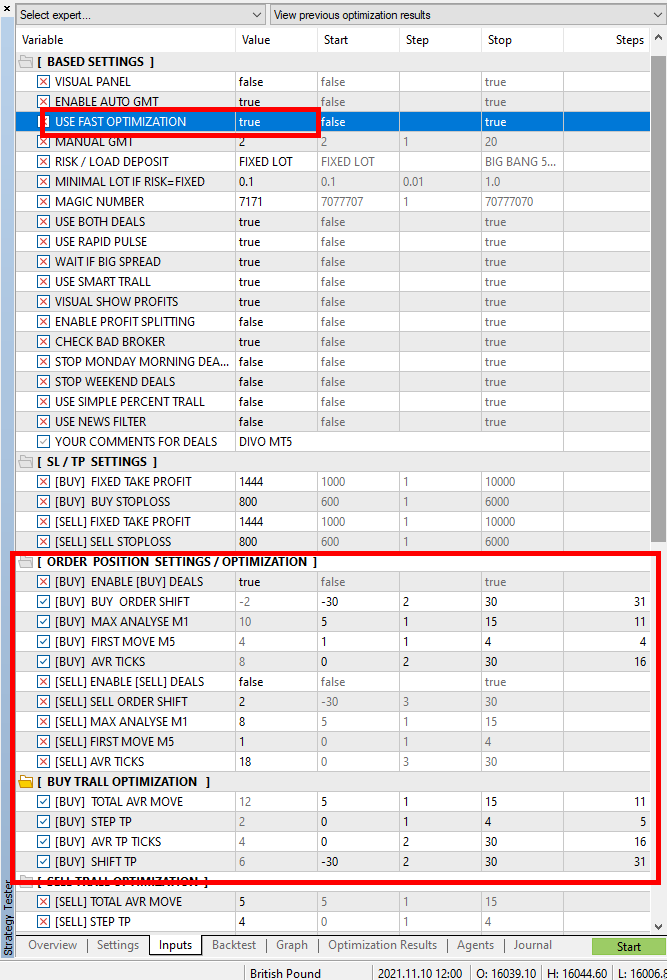 This improvement usually takes about 5-6 hours.
Then we must save our optimization results, for this click Export Optimization Cashe
You will save all this optimization perfectly and you will always be able to use it for yourself in the future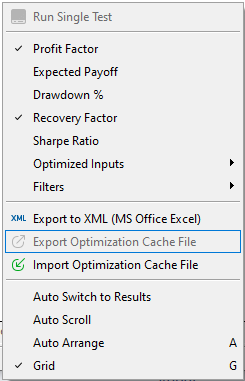 After that, we will do the same for sale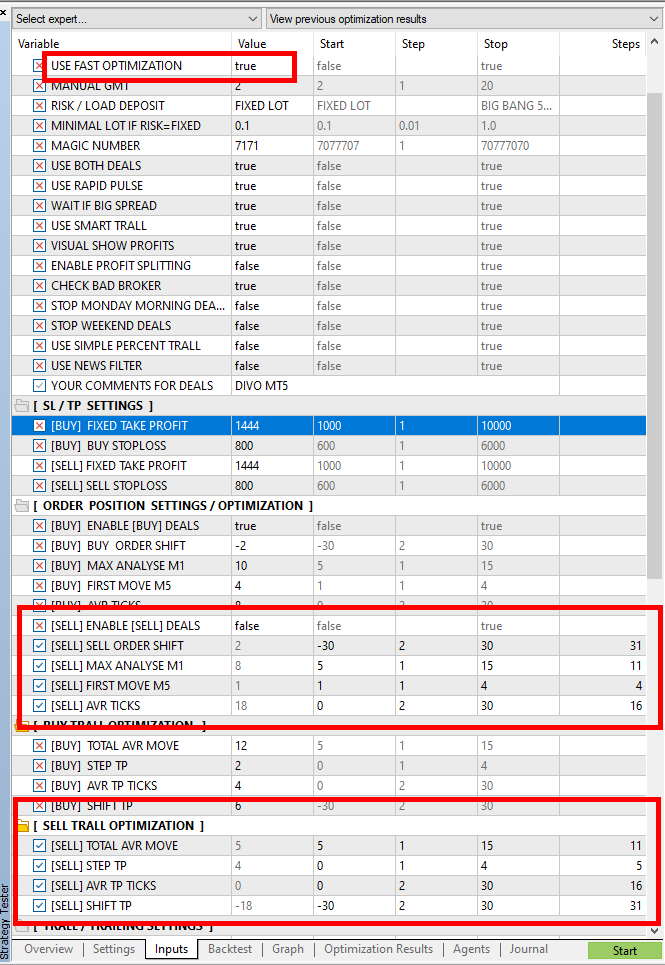 Be sure to remember to save the optimization in a separate folder.
You can then select the best settings from the list of all settings.
I usually choose balanced settings.
The higher the profit, the lower the profit factor
And vice versa, the higher the profit factor, the smaller the trades, as a rule.
In other words, the higher the accuracy of the strokes, the lower the total number of all trades.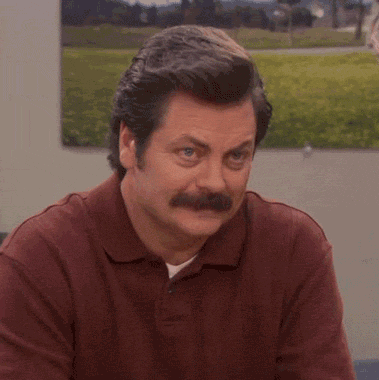 The more transactions, the less accurate and profitable the results.
Therefore, I try to choose the most profitable and accurate settings (ProfitFactor is more than 6).
You can choose, for example, the most profitable, you probably do not need the accuracy of transactions, the higher the profit, the better.
Then we can simply write SEPARATELY BUY AND SELL SETTINGS SEPARATELY into a laptop and combine them together.
At the bottom, I will definitely add files to improve buying and selling separately
You can also choose not to separate between buying and selling, but then the optimization will not be so subtle and long.
Thank you for reading this to the end, I hope it wasn't boring!