Rocky isn't just the biggest sports movie franchises. It's one of the most iconic film franchises of all-time — period. It was more than 45 years ago that the first trumpet blares sounded the unlikely hero's arrival. Since then he has inspired five sequels, a pair of direct spin-offs and millions of people to run up the 72 stone steps in front of the Philadelphia Museum of Art and raise their arms in victory.
The franchise has grossed almost $800,000,000 in box office receipts alone. That's not much compared to the $9 billion or so that the Marvel franchise has amassed, but the scale isn't the same, either. Rocky started off as a modest film with a budget just north of $1 million. Spaceships, super heroes and massive explosions are nowhere to be found. A robot butler is as close as the movies get to Star Wars or anything Marvel.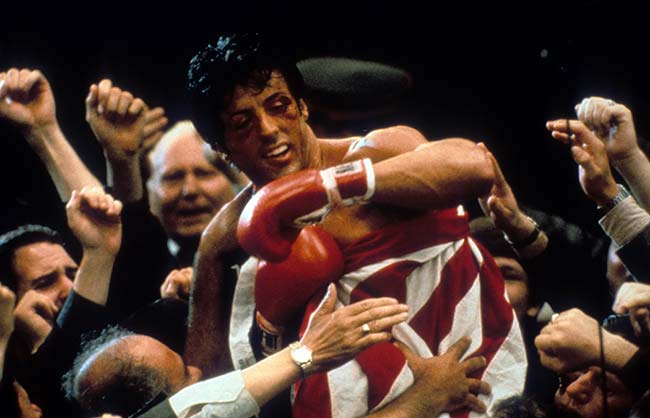 Rocky Balboa has appeared in multiple sets of trading cards over the years. Not for every movie at the time of their release, but some. With the films' boxing focus, there's been some crossover into the sports card realm as well, which has helped keep Rocky relevant in collecting circles as well.
Fight Cards
When Rocky first hit theaters towards the end of 1976, there wasn't a lot of fanfare. Movie distribution was different back then. Rather than the massive opening weekends that are the norm today, movies used to rely on the slow burn fuelled by word of mouth.
Rocky turned out to be both a box office and critical hit, but it simply wasn't the kind of movie that was going to get a set of trading cards. In fact, the only movie to do so in 1976 was John Guillermin's remake of King Kong. Mainstream non-sport cards were focused more on sitcoms like Happy Days and Welcome Back, Kotter.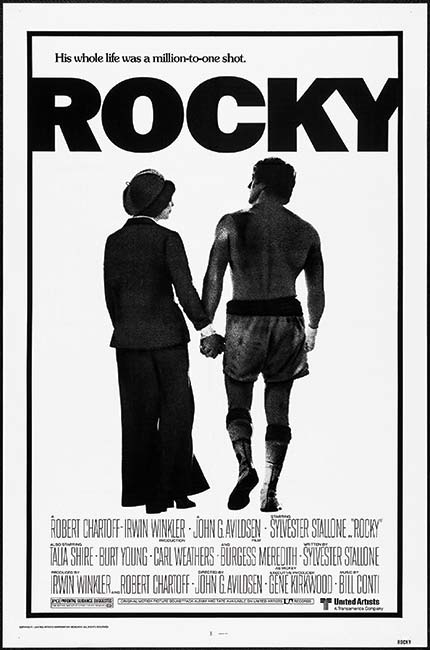 By the time Rocky II rolled around, things were different. Gone was the shroud of uncertainty. Movie trading cards were also providing to be lucrative. Topps was still riding the Star Wars wave that started in 1977 and carried into 1978, a year that also saw the card maker release sets for Superman, Close Encounters of the Third Kind, Grease and Jaws 2.
The movie trend continued in 1979 with Rocky II being one of five films to get the Topps trading card treatment.
1979 Topps Rocky II
Buy on:
Spanning 99 cards, it's a spoiler-filled recap of all the major parts of the film from start to finish. The climactic rematch with Apollo Creed is particularly well done with several cards breaking down the seemingly closing moments shot by shot. Of course, there's a well-timed shoutout to Adrian as well.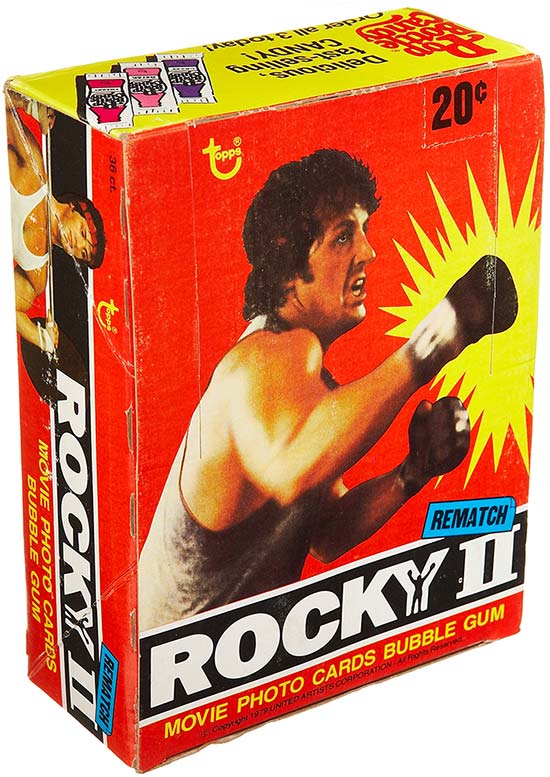 Of particular note are the character cards, though. Through the captions and write-ups on some of the backs, they offer a little more insight into Rocky, Adrian, Paulie and Mickey. In recent years, such cards have also started to take on an appreciation more akin to traditional sports cards on the secondary market.
Card #1 has become particularly popular. Captioned, "Meet 'Rocky'", some view it as not only a Rocky "Rookie Card" but one for Sylvester Stallone as well. Raw, the card can sell for more than $20 now. Graded copies are significantly higher. In recent months, Mint PSA 9 copies of card #1 have topped $600 multiple times. Part of that is perceived rarity and low population counts. Of the less than 40 copies graded by them, 12 had received Mint status with none higher. Just one copy of the six graded by BVG has achieved a 9 as well.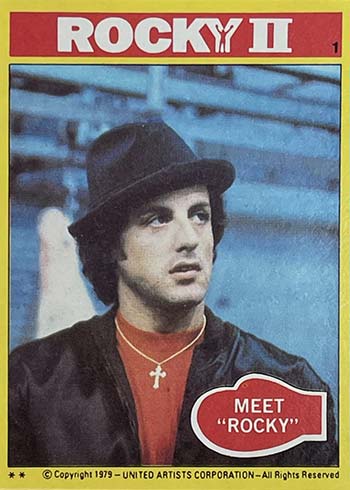 The 1979 Topps Rocky II design is a memorable one. The yellow borders aren't as thick as 1991 Fleer Baseball so they don't stand out too badly. The film's logo runs up one side with a short caption floating inside a red boxing glove. These leave lots of room for character and action photos — not to mention meat locker training sessions.
Backs are split almost evenly between lengthy plot write-ups and puzzle pieces. The recaps are all about a paragraph in length, recapping everything. The two puzzles are both large with 25 cards each. Red border pieces go together to show Rocky hitting the heavy bag. The second puzzle, which has blue borders, has Rocky and Apollo facing off in the ring before their out.
Complimenting the base set are 22 stickers. Landing one per pack, typical for Topps entertainment sets at the time, the stickers themselves are die-cut in the same boxing glove shape from the base set captions. Inside is a photo from the film. Not surprisingly, Rocky is a key figure on a majority of the stickers. He's on all but five of them. With black outer borders, collectors will want to check for corner and edge wear. With puzzle in the base set, sticker backs are left blank.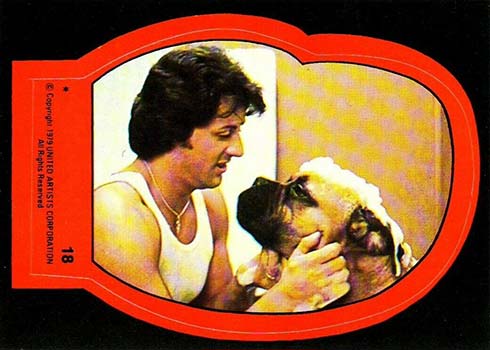 Prices on boxes can vary anywhere from almost $200 up to around $400 for top-condition ones.
1985 Topps Rocky IV
Buy on:
Had Topps decided to return to the ring for Rocky III In 1982, it'd probably be seen as a classic release today as it would have brought one of the first trading card appearances of Hulk Hogan, whose 1982 Wrestling All-Stars card is widely treated like a Rookie Card. There's also Mr. T who had plenty of cards in 1983 thanks to his role on the TV smash, The A-Team.
Topps did revisit the franchise for 1985's Cold War clash between Rocky and Ivan Drago.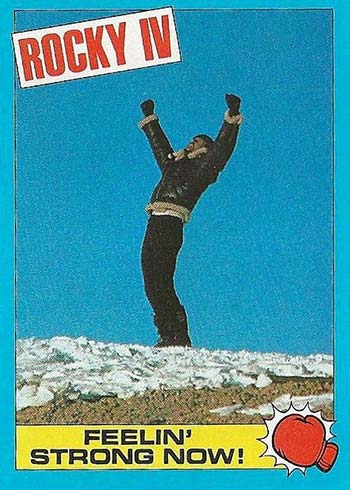 Although the most successful film of the Rocky series at the box office, the card set doesn't have the distinction of being first for the franchise or Stallone.
The base set shrinks down to 66 cards. Despite the smaller size, it still manages to tell the entire story from start to finish.
Whereas the Rocky II set was somewhat blocky, 1985 Topps Rocky IV is a little more dynamic in its approach. Both the blue borders and captains are bold. The title banner is not only big, but it overlaps the corners, perhaps evoking a ring girl holding up a sign at the start of a round. Rounding things out is a boxing glove icon next to the caption, complete with an explosion surrounding it.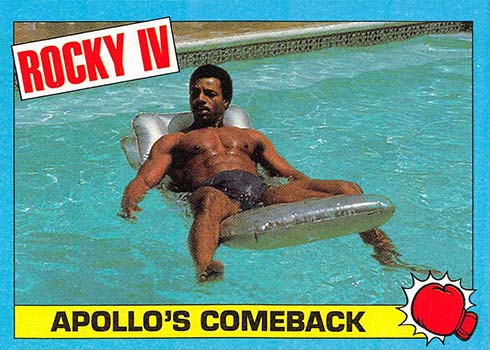 Backs resemble a fight poster with headshots of both Rocky and Drago. Write-ups tell the story, but they're noticeably shorter than the ones found in the Rocky II set.
Stickers have a similar glove die-cut design as Rocky II, only with red outer borders instead of black. This time around, sticker backs double as puzzle pieces. Put together they have the same artwork as the poster of Rocky wrapped in the American flag.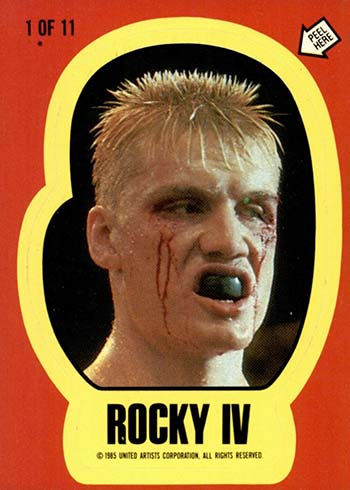 Perhaps the most interesting part of the Rocky IV design is the wrappers. Done with the same sort of style found on Topps' wax wrappers for decades, Rocky and Drago are each featured. Put the two wrappers together and it's a pop art pack war.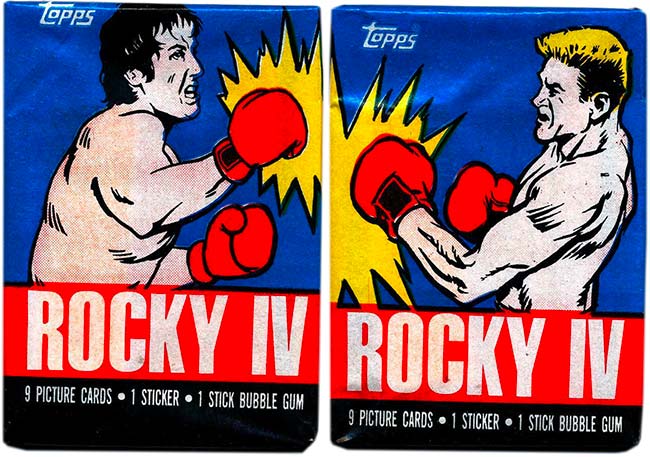 Complete boxes range in price from about $75 to $200. Many that are still out there have a black mark across the box front. This is an inceptor they were closeouts that didn't originally see. Boxes without the mark are tougher to find now and should carry a premium.
The design was revisited, with some adjustments, for a weekly set of cards in 2018 Topps Throwback Thursday. Mike Trout, Mookie Betts and Ronald Acuna Jr. are among the six featured players, all of whom are shown making great plays.
The Comeback: Rocky's Road Back to Trading Cards
In the lead up to Rocky's 40th anniversary, Topps revisited the Rocky franchise in a few different ways.
A big step was 2015 Topps Allen & Ginter Baseball. Rather than focusing on the actors, Rocky Balboa and four of his most famous adversaries — Apollo Creed, Clubber Lang, Ivan Drago and Thunderlips — are featured in the base set.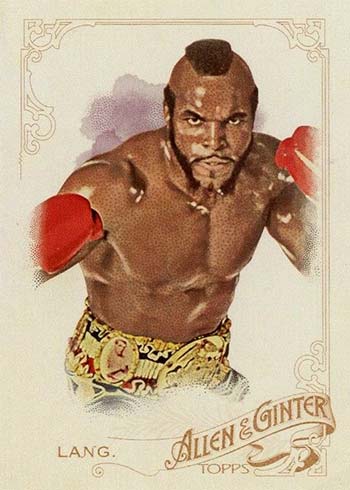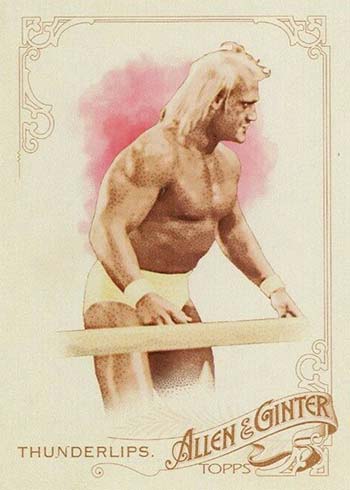 That means a variety of tobacco-sized mini parallels. They also appear in the online-exclusive (and noticeably more limited) side product 2015 Topps Allen & Ginter X.
Rocky carries the strongest prices of the five, with base versions going for as much as $10. The others, though, are hardly commons, often fetching $2-$5.
2015 Topps Allen & Ginter has three of the most valuable Rocky trading cards — Framed Mini Autographs from Sylvester Stallone, Hulk Hogan and Dolph Lundgren. Like the base cards, character names are highlighted, but the signatures are from the actors.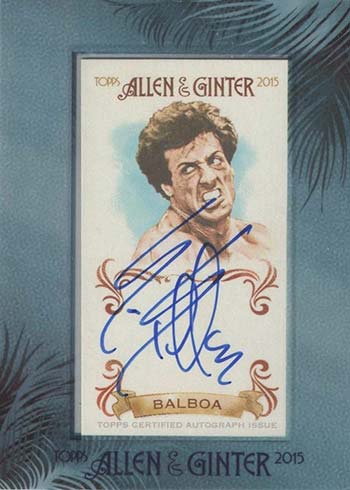 Today, all three are extremely rare and valuable. Copies of Stallone and Hogan haven't recently changed hands in recent months, but a pair of Lundgren autographs have, both selling for more than $500.
Stallone appears as Rocky Balboa in a second Topps baseball card set — 2016 Topps The Mint. He's part of the Gem 10 Autographs checklist. Like Allen & Ginter, this is another rarity that rarely surfaces.
Another Rocky-themed autograph actually came out a couple of years earlier in 2013 Topps 75th Anniversary. Burt Young, who plays Paulie, is on the signature checklist. The approach is a little different. Because the set celebrate's Topps' past, it picture a Rocky IV card with the autograph, on a sticker, underneath. Base versions can be found for under $20.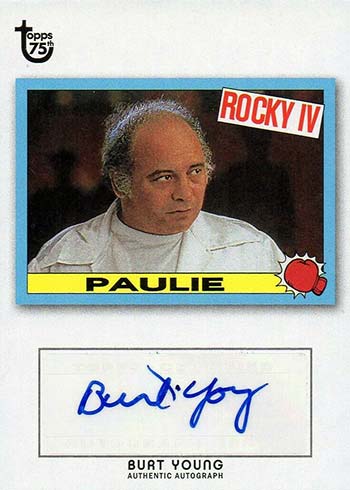 Topps' most ambitious product for the franchise arrived in 2016 in the form of the Rocky 40th Anniversary factory set. Consisting of 330 total cards, it covers all of the films from Rocky through to 2006's Rocky Balboa.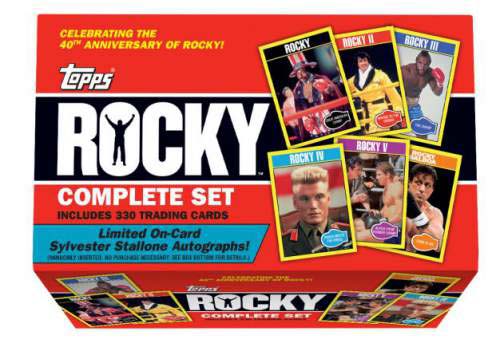 Adopting the Rocky II design, it's kind of like a Topps Heritage set. However, the cards themselves are glossy, so there's a modern approach as well.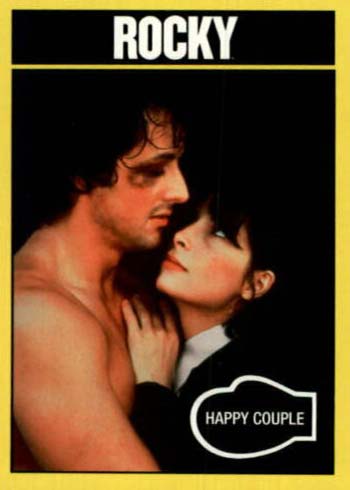 A chase element was added in the form of Sylvester Stallone autographs. Inserted 1:125 sets, there are two different cards, each limited to 10.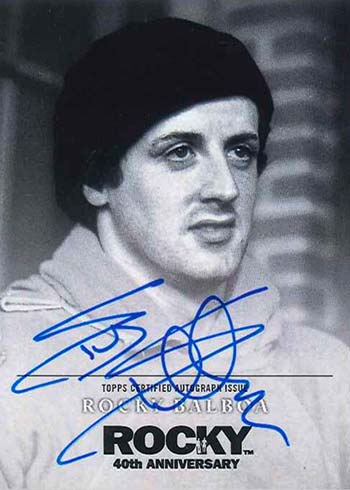 Another 40th anniversary set was sold at the 2016 National Sports Collectors Convention. This one was much smaller, though, consisting of just ten cards. The design goes full-circle, taking it back to 1976 Topps Traded Baseball, which came out the same year as the original film.
A 2016 Topps Throwback Thursday offering included six Rocky-themed cards done with their 1951 Ringside design. Available on Topps' website for just one week, just 172 sets were ordered and printed, making them some of the rarest Rocky trading cards ever produced.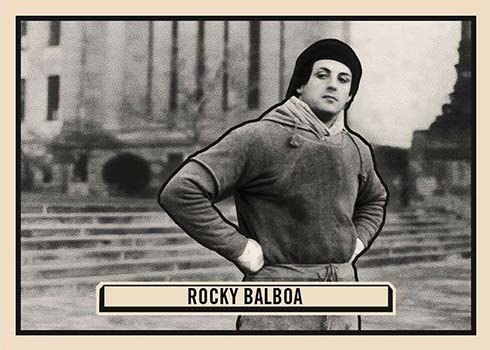 Topps's final entry into Rocky's 40th anniversary wasn't cards. Rather, It was a series of eight limited edition prints by John Rivoli. Each has four versions: Black and White (/10), Color (/10), Black and White Red (1/1), and Color Red (1/1).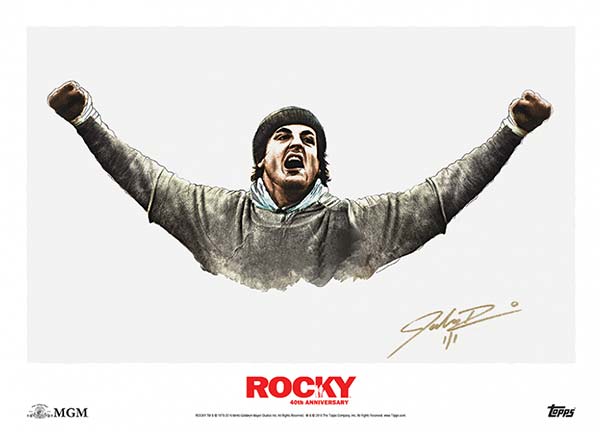 Rocky is one of those rare franchises that has crossover appeal for both sports and non-sport collectors. As time goes by, the world of Rocky Continues to grow with more films, stories and collectibles. In some ways it's like it's own Marvel or Star Wars universe, only much smaller and intimate. For most, it's much more relatable to have a Bull Mastiff named Butkus at our side than a howling wookie.